Custom tire cover Personalized tire cover Custom made spare wheel covers fit for Jeep/CRV/RV Spare Tire Covers

Order today and get it by -
Description
Diameter and tire type:
23.5 inch - 27.0 inch(205/70R15,215/65R16,225/55R17)
27.5 inch - 29.5 inch(215/65R16,225/65R17,235/70R16,235/75R15,245/75R15,255/55R17)
30.0 inch - 31.0 inch(31X10.5R15,235/75R16,245/75R16,265/65R17,265/70R16,275/70R15)
31.5 inch - 32.5 inch(235/85R16,245/75R17,255/75R17,265/75R16)
Personalized Custom spare tire cover. All you need to do is upload your image, logo, text, ...whatever you have. You can adjust the angle on the preview. The design will be a full color digital print so there is no limit to your choices. Each spare tire cover is custom made to your EXACT tire size. The image will not flake off like air brushed or painted tire covers.

You can print
Pets - Dogs / Cats / Horses / Cows / and much more!
Businesses - Real Estate Professionals / Contractors / Offroad Tours / Contractors / and sooo many more!
Sports - Your local team
Quotes/ Sayings - That favorite quote with your favorite picture - truly make it yours.Quotes/ Sayings - That favorite quote with your favorite picture - truly make it yours.Cover
★MULTI-FUNCTION - Waterproof, strong wearability, wipe-clean vinyl with soft, non-scratch backing. Helps guard against sun, rain, mud, and other elements. And strongly improves your vehicle appearance.
★HIGH QUALITY MATERIAL - Our Spare Tire Cover are made of high quality material, Thickest material in the market. with Non-scratch soft backing. Elasticized, breathable and durable material ,maintains the shape in any temperature.
★EASY INSTALLATION - Our Spare Tire Cover are easy to install and remove and no tools required. Elasticized back hem with quick-connect clips for a fast and adjustable fit.
★WIDE APPLICATION - Fits whole diameter 60cm-83cm (not the rim size). Tire sizes are listed on below detailed description, so customers can determine size without measuring tires. No matter what car models, especially fit for Honda CR-V, Jeep Wrangler, Campers, Toyota CRV RAV4, Suzuki, Ford and Trucks.
★HASSLE-FREE WARRANTY - If you have any issues with your order, please contact us directly , we'll respond within 24 hours to make it right, plus all our Spare Wheel Tire Cover come with a 100% MONEY BACK GUARANTEE OR SEND A SPARE TIRE COVER TO REPLACE.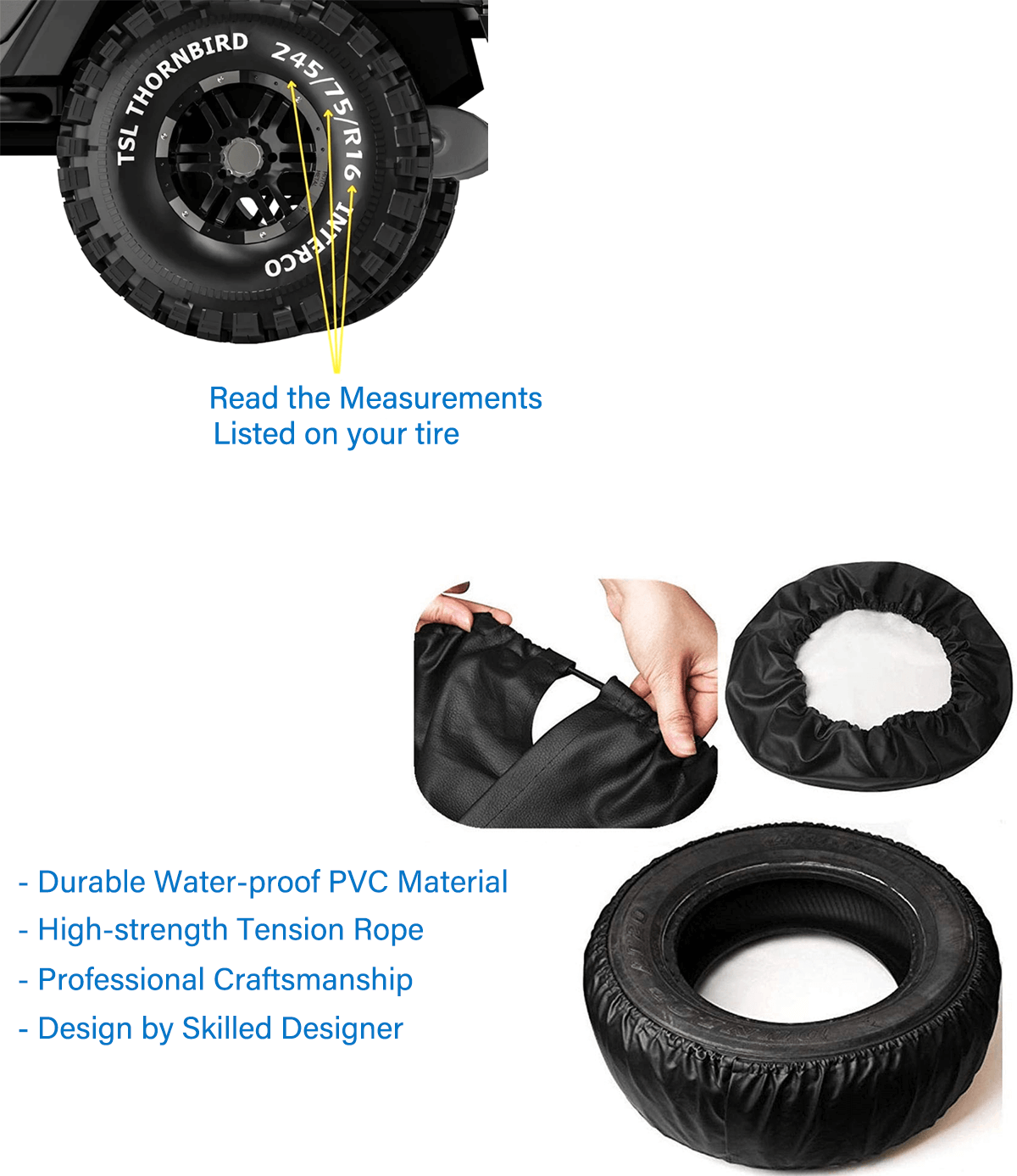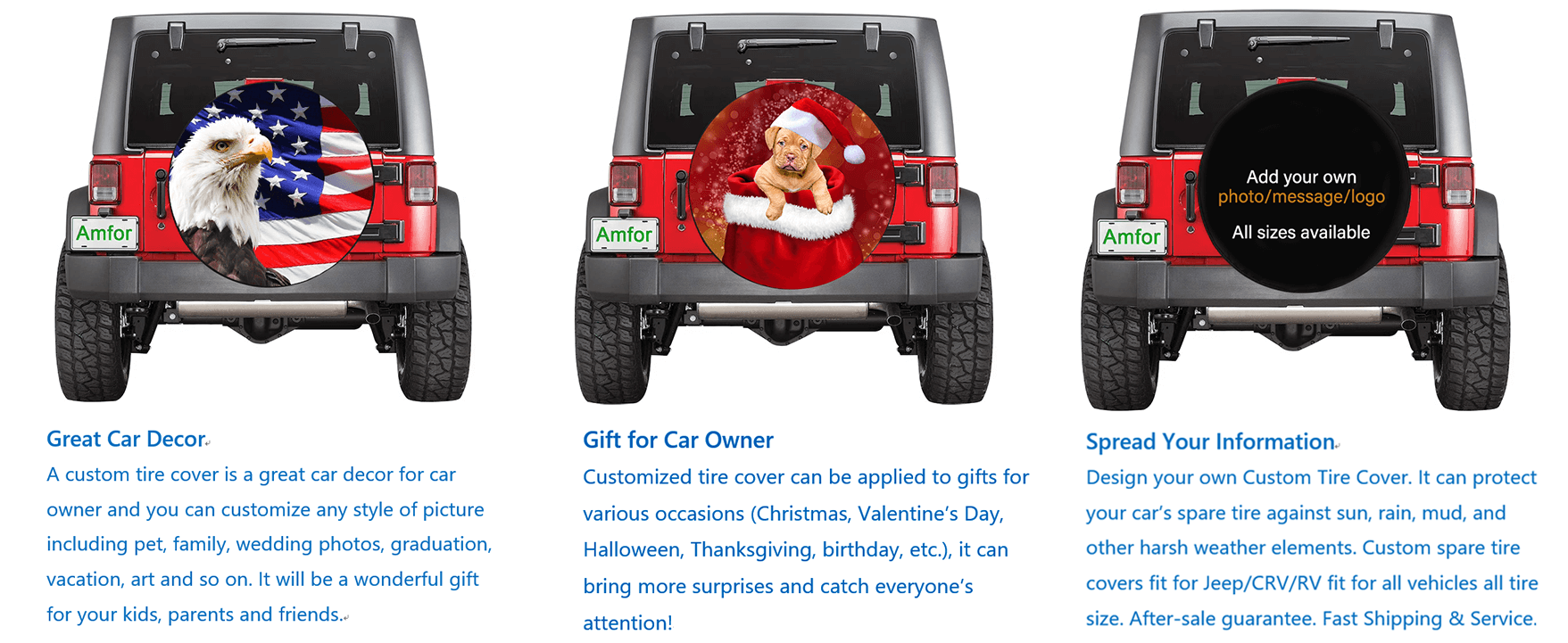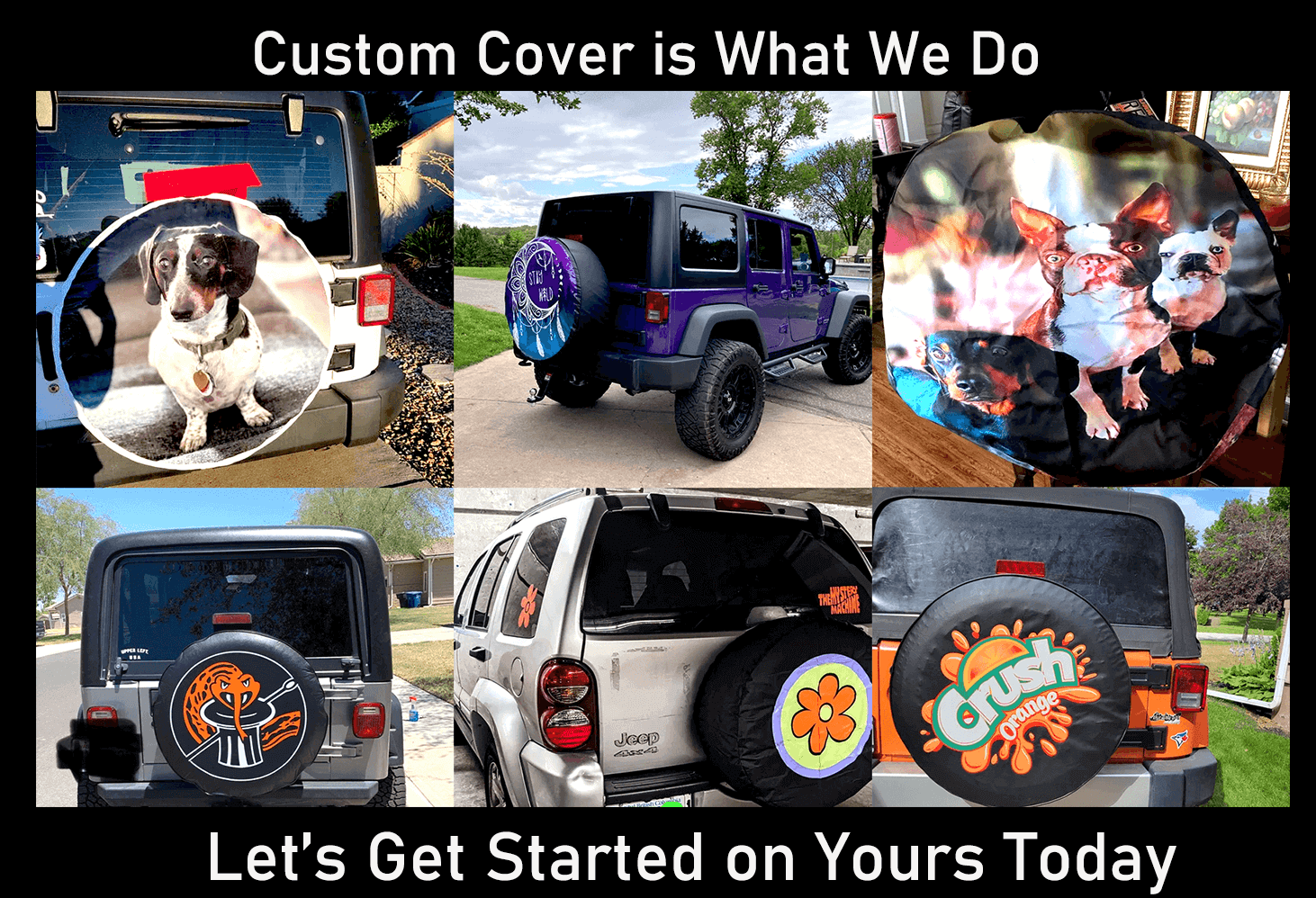 Shipping & Return
The above time frame is only applied for orders to the US with standard shipping methods.
International orders: It may take 2-5 days longer due to the customs clearance process.
For more information about Shipping and Delivery, visit here.
Learn more Returns and Refunds here.

Custom tire cover Personalized tire cover Custom made spare wheel covers fit for Jeep/CRV/RV Spare Tire Covers